Consilium at the heart of electric vehicle revolution
Tuesday, September 18, 2018
Following the world's first ever Zero Emission Vehicle (ZEV) Summit in Birmingham, Theresa May pledged to cement the UK's position as a world leader in low emission technology as part of the Faraday Battery Challenge.
Expected to be worth potentially £5bn per year to the UK and £50bn across the EU, the growing automotive battery supply chain opportunity is potentially huge and will formally bring together CR&D, including supply chain and manufacturing development in order to achieve this.
Consilium was present at the summit having been an active participant in this sector for several years and currently partners a number of leading organisations including UKBIC (UK Battery Industrialisation Centre), one of the leading innovators in battery technology and manufacturing.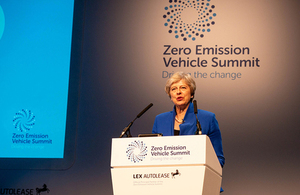 The summit also formally announced numerous projects for developing innovative green battery, vehicle and refuelling technology, with an investment of more than £0.5bn alone relating to low emission technology with the potential to create 1,000 jobs across the UK. Furthermore and more exciting is the prospect of the UK's first GigaFactory with the potential to employ up to 10,0000 people (and a further 30,000 in the supply chain) once the technology is scaled up for high volume manufacture. In the meantime, projects announced at the summit included:
• The EV Network, a UK-based charging station development company, is developing 200 fast-charging stations throughout the UK, representing an investment of around £200m. The company has joined forces with Leclanché which will be supplying the battery storage solutions to the stations. EVN and Leclanché will develop an EV Charging Centre of Excellence in Warwick
• Hyperbat Ltd, a new joint venture between Williams Advanced Engineering and Unipart Manufacturing Group, will open the UK's largest, independent, vehicle battery manufacturing plant in Coventry in early 2019. The site will create around 90 new, high-value, high-tech jobs
• Semiconductor specialist, Zhuzhou CRRC Times Electric Co, a subsidiary of CRRC, has confirmed Birmingham will be the location for its new UK R&D Innovation Centre for EVs, rail, and renewable. The centre will employ more than 150 engineers by 2022, with an overall investment of up to £50m
• Leoni will be investing £7m into a new technical centre in South Warwickshire, creating more than 100 new design & development jobs. The company will be working with major OEMs in developing technologies for the next generation of autonomous and electric vehicles
• Warwickshire-based sports car manufacturer Aston Martin will be investing £50m into its new facility at St Athan in Wales to make it a centre for electrification and the home of the Lagonda brand. The investment will create an additional 200 jobs at the site and, in total, the new plant will bring up to 750 high skilled jobs.
Steve Doyle, Director of Consilium Recruit "Apart from the technology required, skills will be a major factor in achieving these goals. For the last two years, Consilium's Innovation division has been focusing heavily on Battery and 'near neighbour' technologies in order to support this anticipated surge for talent. We are now established as a partner to many UK Battery firms and able to provide recruitment expertise to those seeking to either resource or conversely work within arguably the fastest growing technology sector in Europe".
---